Description
Making its debut at the 2017 Brisbane Truck Show, the AUTOCAM GPS FHD V56G continues the heritage of the AutoCam GPS dash cams.  Excellent vision, both day and night, in-built GPS for speed recording, easy functionality and now with longer loop recording, faster processing, and an industry leading image sensor.
AutoCam GPS FHD dash cam has just been updated and the new V56G model features industry leading SONY Exmor image sensor giving clearer and sharper imaging capturing more detail day and night. The Exmor sensor results in superior image quality at 1920 x 1080 resolution, low light sensitivity and smear-free clarity.
AutoCam GPS FHD V56G records on a 16GB to 128GB micro SD card.  This is great news for those drivers who have been asking for longer loop recording that the old AutoCam GPS FHD could not offer.
It is these improvements that continue to make the AutoCam GPS FHD dash cams Fleet, Truck and Car Drivers No 1 choice.
AutoCam GPS FHD V56G, is ideal for drivers who want a professional reliable car/truck Dash Cams that not only has excellent vision but has GPS and speed tracking capabilities as well. AutoCam GPS FHD V56G imprints the speed onto the video recording and records your GPS coordinates. The dash cam records in Full High Definition (1080P) or High Definition (720P) but thanks to the new image sensor, drivers are surprised by the quality of the recording and the clarity of the vision.
AutoCam GPS FHD V56G, has a sharp LCD colour screen which makes set up and video playback easy for any driver.  Recorded video can be replayed and viewed instantly on the dash camera's clear LCD screen. The instant replay ability and clear MENU system is why many Emergency service personnel choose AutoCam GPS FHD dash cams.
The 2017 model features a 155° wide angle lens and an all glass lens and a 1.8 aperture, resulting in great day and night vision with exceptional clarity.  The dash camera is the choice of car and truck fleets, and owner drivers Australia wide due to its quality, accuracy and range of spares and service provided by OnSiteCameras.
The AutoCam GPS FHD is our biggest selling Dash Cam to trucking and car fleets due to its superior night vision, and clearer vision in daylight; EMERGENCY file save button, and super quick GPS speed lock.  The 2017 model, AutoCam GPS FHD V56G, amazed drivers at the 2017 Brisbane Truck Show with the sharp video through its improved image sensor and all were appreciative of the longer recording ability.
All vision is recorded in full 1920 x 1080 @ 30fps resolution if left in default mode. You can set your frame rate to 60 frames per seconds at High Definition (720P) for a more fluent video.   The model features Wide Dynamic Range, which lets the dash camera adjust quickly to high and low light spots such as clouds, tunnels and glare. The dash camera continues to have a solid construction and feels well made in your hand.
AutoCam GPS FHD V56G records everything; vision, audio, speed and tracking co-ordinates; letting you know exactly what you were doing and where you were when an incident occurred, it is more than just an eyewitness.
AutoCam GPS FHD, the predecessor to this new model, has been featured many times on 'A Current Affair' on Channel 9.  (See the West Gate Bridge story on our homepage.)  AutoCam GPS FHD is also the choice of professional television camera operators due to its superior glass lens and excellent vision produced, making this dash cam stand out from the many other inferior dash cameras on the market.  This new model continues to improve on the extremely reliable and well-liked dash camera.
Memory Card Record Times– AutoCam GPS FHD V56G improves on the recording capability of prior models as it is now able to record on a 16GB, 32GB, 64GB or  128GB micro SD memory card.  A feature that has been long awaited and is sure to be enjoyed by many long-haul drivers. Record times are dependent on many factors, not just card size and resolution.  Below is a table of Loop Record Times please use as a guide only. (OnSite Cameras recommends you complete your own testing to confirm loop record times.)
Loop Record Time Table (Approximate times only)
| | | | | |
| --- | --- | --- | --- | --- |
| Resolution/Card Size | 16GB | 32GB | 64GB | 128GB |
| 1080P / 30fps | 2 ½ hours | 5 hours | 10 hours | 20 hours |
| 720P / 60fps | 2 hours | 4 ½ hours | 9 ½ hours | 19 hours |
| 720P / 30fps | 4 hours | 8 hours | 17 hours | 35 hours |
AutoCam GPS FHD V56G
is compact, affordable, and records automatically when you start the vehicle and stops when you turn off the vehicle
records in full high definition and has a wide 155° lens to record a 'driver's view' picture (depending on resolution settings)
loop recording means the micro SD memory card should never run out of memory, simply 'looping' back to the start of the memory card
Emergency Recording files mean events can be saved and not recorded over, they can be kept indefinitely and need to be deleted manually
The vision (and sound) is quickly removed from the dash camera on a micro SD memory card
is quick and easy to install on the windscreen via small suction mount, making it easier to change between vehicles if required (stick mount option available also)
has a large clear 6cm LCD screen, which assists in installation as you can see clearly where the dash camera is aimed and what you will be recording
built-in high temperature resistant battery
comes with a 3.5 metre power lead (12/24 volts) and strong suction mount, which suits both Truck or Car.
record incidents for motorists in case of insurance claims
record vision and evidence of dangerous road behaviour
simply provide a permanent or temporary video record of driving

Technical Specifications
Image Processor
New Generation WDR Low Noise Image Processing Chip
Image Sensor
SONY Exmor CMOS Sensor
GPS
USA Satellite Receiving Mode 25mm x 25mm Ceramics Antenna
Lens
155° All-glass with IR Filter
Aperture
F/1.8
LCD Screen
2.4" TFT Capacitive Colour Screen (can be set on/off)
Resolution
1080P / 30 fps

720P / 60 fps

720P / 30 fps

Wide Dynamic Range
Yes
Audio Recording
Yes (On/Off function)
Speed Recording
Kmh/Miles
Video File Format
.MOV
Compression
H.264
Speed Limit Alert
Yes
Parking Mode
Yes
Motion Detection
Yes
G-Sensor with Collision Detection
Yes
Emergency Recording
Yes
Loop Recording
2/3/5 Minutes Loop Recording
Power Supply
Car cigarette charger (INPUT: 12V~24V; OUTPUT:DC5V/1A)

Built-in high temperature resistant lithium polymer battery

USB Format
USB 2.0
External Memory
Micro SD Card (16GB~128GB, SDHC Class 10 or above)
LED Indicator
Green: On

Red: Recording

International Certification
BSMI/FCC/CE
Operation Temperature
-20~60°C
Storage Temperature
-20~80°C
Dimension
68 (L) x 62 (W) x 36.5 (H) mm
Weight
Around 90g
Warranty
OnSiteCameras range of AutoCam Dash Cams feature a 12-month warranty and technical advice if needed. We provide technical advice for the life of the unit.
Watch demonstration video Click here for a brief video of this camera in action. There are other demonstrations from this camera under video demonstrations on homepage.     Note-Video is sharper again on your own computer as it is compressed and restricted by the internet and the edit program used.
Included in Box           
-AutoCam GPS FHD V56G Camera
-Windscreen Suction Mount (super strong for trucks and cars)
-3.5 Metre Cig Power Lead 12 volt or 24 volt
(Note: *Micro SD Memory card not included)
Which camera to buy? 
If you are looking for a premium model with in-built GPS, accurate speed record, long record times, great day and night vision and a big LCD screen for setup and playback, then this is the dash camera for you; the AutoCam GPS FHD V56G.
Accessories
Hard wire kit Allows the dash camera to be wired directly to your accessories circuit, instead of using the supplied cigarette lead, eliminating unsightly cables.  A qualified Auto Electrician should install the cable.  The hardwire kit converts car or truck power (12V or 24V) to the camera DC5V/1A requirement with voltage protection built in.
Front & Back View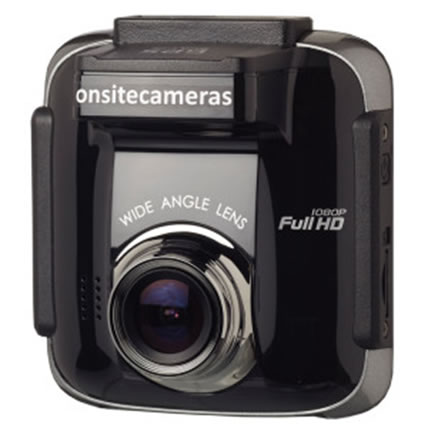 IMPORTANT Class 10 memory cards should only be used, other micro SD cards may cause the camera to not function correctly. We strongly recommend the KINGSTON brand as we have tested this card over a long period and found it to be a proven performer.  OnSite Cameras only use and stock class 10 Kingston cards.   Slower class memory cards or inferior cards will cause operational and recording problems with the camera, sometimes resulting in it not working at all.
MAC computer users -The video from this camera will play on your MAC computer, with the speed, time and date on the screen. The video tracking software we recommend is suitable for PC only.  We have included a link in our FAQ section to a generic tracking software for MAC computers.  The developer may charge a small fee for the generic MAC player.