AutoCam Dual HD
Front and Rear or Driver camera in One
Description
Additional Information
Product Description
AutoCam DUAL HD filming in full high definition. Two cameras filming from one DashCam
This model is FULL High Definition 1080 lines of resolution, and gives a vastly superior picture to the older model. The 2nd camera is on a 6 metre cable so you can attach it anywhere in the vehicle. Rear or side windows, or even face the driver.  Both images show up on the camera screen and playback is very easy giving a clear video from the front or 2nd camera.
The second camera films in 720 lines resolution. The second camera can go anywhere inside the vehicle. The second camera can look out the back window or left and right window as the lens is adjustable. See the bottom of the page for a video demonstration including the second camera facing the driver.
The camera will film for approximately for 4.5 to 6 hours in full high definition then it loops. The main camera has a large LCD screen for drivers and large clear MENU buttons also. Many truck drivers use the 2nd camera to look out the left or right side to show other vehicles driving badly. The second camera can also be used as a reversing camera if needed.
AutoCam DUAL HD also features an EMERGENCY file save button so drivers can touch this button once and save the current clip recording for as long as needed, eliminating the need for multiple memory cards.
Features:
AutoCam Dual HD DashCam featuring full 1080p recording at 30 frames a second.
2 x Cameras enabling Sync Recording. Front and rear camera are recorded on one camera memory card.
Technical Features
Resolution Front Camera –Full high definition 1980x1080P, Rear – 1280x720P
The latest processor and camera chip installed
Adjustable Front Lens, up down and you can swivel the front lens left and right also
Video/Audio Recording
Loop/Cycle Recording
Impact sensor
AUTO ON/OFF – Start Recording AUTO once ignition is ON
AUTO POWER OFF
Time and date stamp on video
Motion detect recording functions
Large colour LCD video screen. 2.7" TFT LCD. Watch front and 2nd Camera
170 degree ultra wide angle lens front camera
140 degree wide view for second camera
H.264 Video Compression
Image Rotation
3 Mega pixels CMOS Sensor
Front camera uses a suction mount. Second camera is a 3M double sided stick mount. Easy to apply.
Power –Lithium Ion battery installed
Storage Temperature: -20°C – 70°C
Operating Temperature:-30°C-60°C
Memory Card supported-Micro SD Card (class 10) up to 32GB maximum (not included)
Dimensions- 120x90x45mm ( excluding the bracket)
PC and MAC friendly camera. The video with time and date will play perfectly on PC and MAC.
Warranty-All of our DashCams feature a 12 month warranty and technical advice if needed. We offer technical advice for the life of the unit.
GPS Speed Module-If you buy the GPS/Speed module you can also record the speed and location onto your memory card. The module is a separate item that simply plugs into the camera and sticks via double sided 3M tape to your windscreen. See photo. The speed recorded will then show on the LCD screen of your camera. You need to use a simple software program to watch the video back on your computer that is a downloaded program. You only need the software to view speed and tracking, otherwise the camera video runs on any standard computer. PC tracking software if free and included. Note if you use a MAC computer and wish to watch the video with Speed included there is a small software fee that the developer charges after the first five free plays. This is only for MAC users.  Note-The camera does not need to have this module to run perfectly.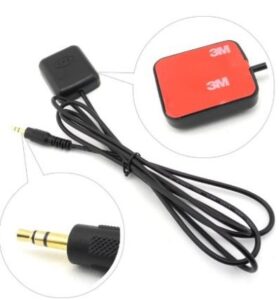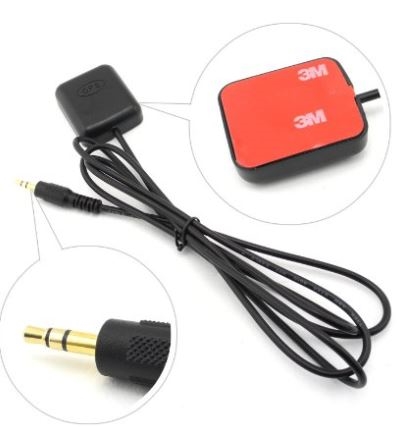 Speed/GPS Module
Included in the BOX
1 x Forward Facing Dash Camera
1 x Rear Camera
1 x Car Cigarette Charger 12 or 24 volts input
1 x 6 metre micro USB cable to connect the two cameras
1 x Suction Bracket for front camera mounting
1 x Stick bracket for 2nd camera mounting
1 x User Manual, plus Australian English notes written by our company OnSiteCameras
                      Second Camera – the size of a box of matches, can be placed anywhere in the Car or Truck
Video Demonstration. Day /Night and camera recording driver  Click Here
Memory Card Record Times-A 32gb will give you approximately 6 hours recording in 1080p resolution. A 16gb memory card will give you 3 hours record time approximately in 1080p resolution. This is using one camera only. If you use the second camera and it is set to 720p your record time will shorten.
Additional Information
| | |
| --- | --- |
| Memory Cards | 16GB $24, 32GB $33, No Memory card $0 |
| Hard Wire Kit | Hard wire kit $28, No Hard wire kit $0 |
| GPS Speed Module | GPS Speed Module – $44, No GPS Speed module – $0 |